I've made some slight alterations to the blog, mostly my posting schedule, mainly that I'm not going to keep to it. I thought that by giving myself set days I could encourage myself to actually update, but the opposite has actually occurred. I get all flustered that I haven't updated, then I get frustrated, then I don't want to do it. Yet, when I don't have a schedule I tend to update more because the freedom doesn't put pressure on me!
I have also decided to loosen up a bit on the structure of the blog. Review entries will still have a "classroom" aspect to them, but I won't be writing them specifically for classroom purposes. On this blog you'll find reviews of YA books I think everyone should read, ramblings from a YA writer about the topic of writing YA, and anything else that may be relevant.
This tiny look into my crazy writer brain brought to you by having free time and getting back on the writing horse. Now, without further procrastination, a review!!
~~~~
The Story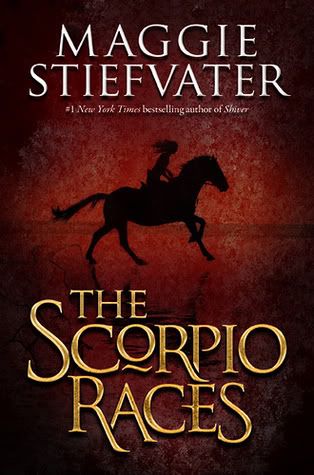 The Scorpio Races are a deadly game of man playing with fire, with the fire being ancient, and deadly water horses that riders must master to cross the finish line. Sean Kendrick and Puck Connolly come from two separate parts of the island; one an experienced trainer, the other a girl with a will of iron.
When Puck's brother decides to leave the island, the only home she's ever known, she enters the races to make him stay. But the races are violent and bloody, and a girl has never raced in them. It's here she notices Sean, a young man chained to his job by a mixture of duty and the love of the water horses. Together, their twos stories intertwine into a mutual tale of trust, self discovery, and what it really means to be free.
What's So Great About It?
If you haven't picked up a book by Stiefevater, you are really missing out. I plowed through her
Gathering of Faerie
novels at least a year ago, then demolished her
Wolfs of Mercy Falls
trilogy shortly thereafter. Stiefvater is a writer whose voice and writing have really grown into a beautiful mixture of poetry and prose, culminating in the execution of
The Scorpio Races
. I can't write enough about how much I enjoy her prose and how essential this is to the story. I saw a few pictures of the areas that she has used as inspiration for the book a few days ago and she truly captured the essence of the locations.
Each of the characters, no matter how minor, are brought to life by the prose and the attention to their motivations. By the end of the book, I really felt as if I could run into Sean or Puck in real life and have known them as friends. I was instantly pulled into their stories and by the end of the book, I wept with them at their joys and sorrows. I have found it extraordinarily hard for YA novels to do that to me lately, and not only is this a skill I attribute to true writers, but also an essential aspect of reading. If can't be made to
care
about your characters or their stories, how am I supposed to have
felt
anything or taken anything away from what I have read?
Why This Book?
For all the reasons stated above! Well, alright, if we're being more specific I recommend
The Scorpio Races
for its characters, story and the magic of the water horses. The feral and dangerous nature of the water horses was a completely fascinating story plot. I absolutely love the complete lack of control that the people really have of these animals. Stiefvater does an amazing job of describing, and detailing, how these animals can (and will) rip you to pieces faster than it takes you to look at them. For an animal that is usually considered pretty tame, these horses become things of nightmares. The horses also become the focal point to which the characters act around, and its such and interesting dichotomy of human and animal that I couldn't help but fall in love.
I would also recommend this book for its depth of character and willingness to provide nit and grit into the YA genre, which I have been finding severely lacking lately. I want a true story that will pull me in, make me feel for its characters and take me on a journey of the human spirit and
The Scorpio Races
does this.
The Scorpio Races
by Maggie Stiefvater definitely gets a 5 out of 5 stars for me and I wouldn't hesitate for a second to recommend it for the classroom, either. I think students of both sexes could get into the tale and become thoroughly entranced by the story. I'm waiting for the movie for this, too. It would be an AMAZING movie!